Quantum3D Graphite
From Quantum3D flyer- Graphite™ is the ideal solution for space sensitive and cost-sensitive PC-based Visual Simulation and Training (VST) deployment applications that are destined for hostile computing environments. Graphite's super rugged, small-form-factor chassis features high-flow cooling, extensive cable and add in- board retention, and disk drive shock mounting which enables the system to operate in near mil-spec environmental conditions. With a range of motherboard, CPU, memory, graphics, peripheral and O/S options, Graphite delivers the tailored functionality and industry-leading price/performance integrators need to meet cost-sensitive Visual Simulation and Training applications.
The Graphite platform was available in a wide range of configurations and it still used to this day in Ultracade Arcade cabinets. Graphic options range from integrated i752 (if Intel CA810e is selected for motherboard), Voodoo 3, Ventana 3, V4-4500, V5-5500 and Geforce 2 32/64MB.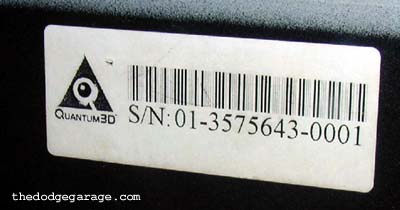 This unit pictured below is a pre-production unit from the Midway Arctic Thunder field test program.
---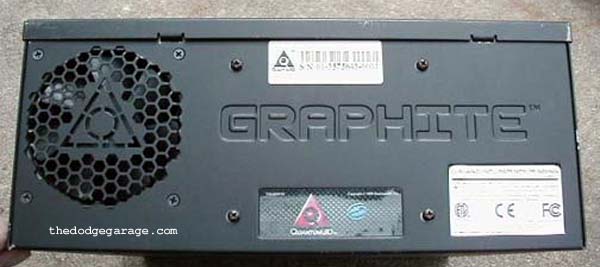 Backside of unit showing fan intake.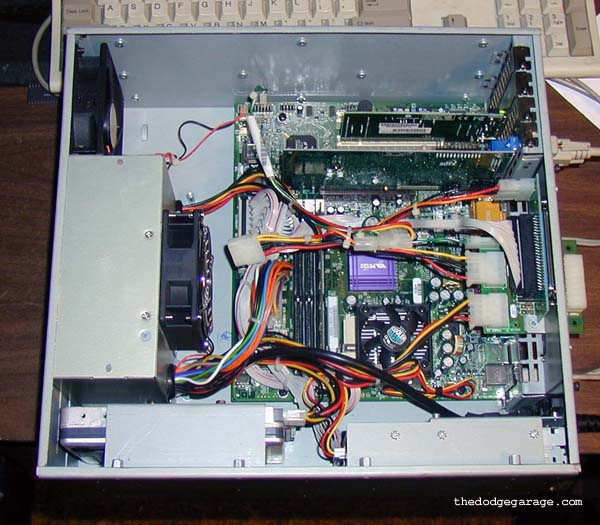 Overhead view showing Micro ATX VT82C694A motherboard- Machine is outfitted with pre-production Voodoo3-3000 with no TV out, 128 MB or PC-133 ram and P3-733 mhz CPU. Unit has Western Digital hard drive like the original loaded with Win98SE. Since this unit was for use with an arcade cabinet it has no power switch! Currently it is configured in the bios to power up if plugged in or if the keyboard is touched, a handy feature. The network card is a regular D-Link PCI unit and four cabinets can be linked together for multiplayer action.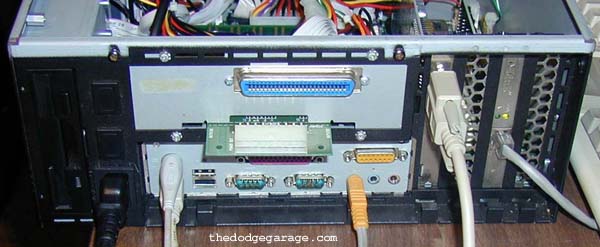 Front panel showing all connectors- Of interest to note is the ATX backplate and power connection plate are unfinished unlike the production units. Even though the white connector in the middle has "MIDWAY" on the PCB I suspect it is actually is a POWERlinx connector described below. Perhaps it was a joint design by Quantum3D and Midway? It does indeed provide filtered 5V and 12V feeds and has a reset line for the computer. The upper connector runs to the secondary IDE connector and I suspect is for an external CD-ROM for loading the OS and system upgrades.
November 15, 1999- POWERlinx provides filtered DC power from the computer to drive cabinet electronics. POWERlinx' 5 volt and 12 volt power connectors can be used to operate cabinet marquis, lights, buzzers, coin boxes and other devices, eliminating the need for a separate and costly external DC power supply. POWERlinx is available as a component of JAMMAlinx or separately.
---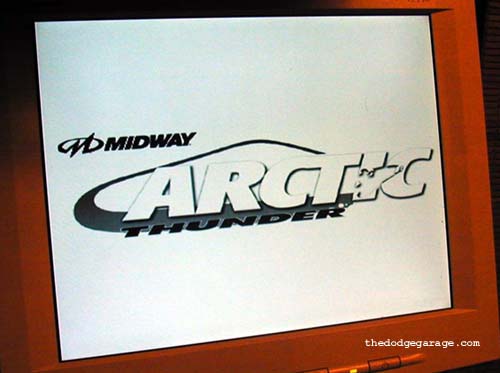 Custom Win98SE boot screen.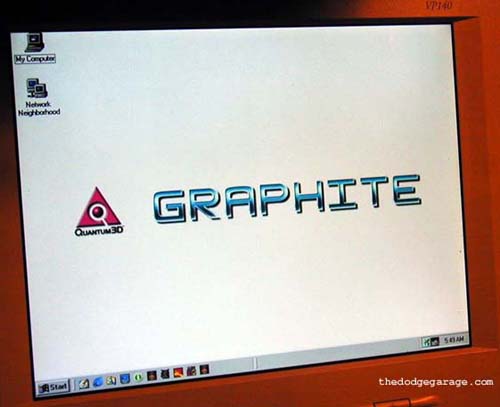 I make unique desktops for all the Quantum3D systems I own.
---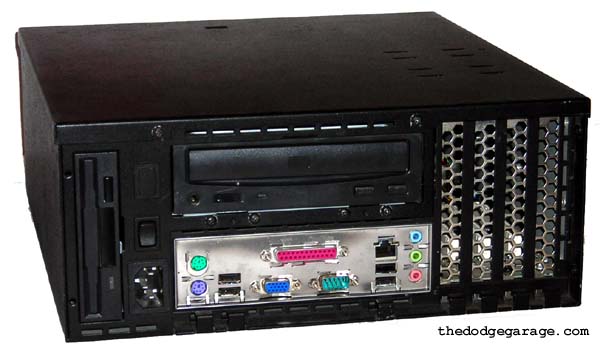 Another Graphite in my collection, nothing as unique as the one above but still pretty nice.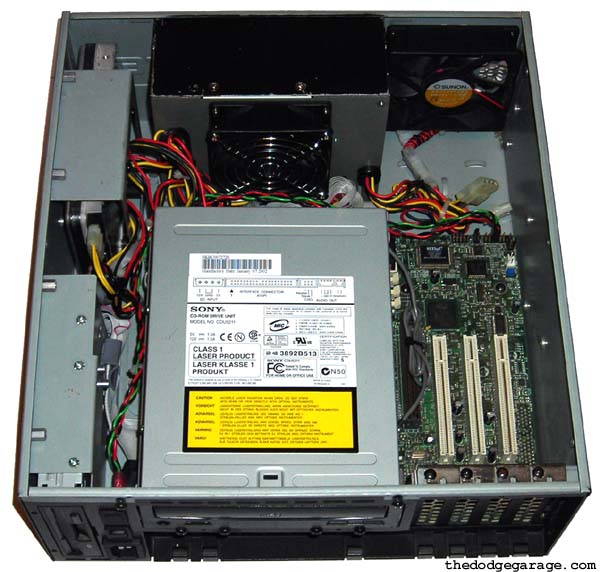 The system consists of an Intel 815 motherboard with a 1.0 ghz P3 & 256 MB of PC-133 ram. For drives there is the typical Sony CD-Rom and floppy installed by Quantum3D and a Western Digital hard drive. No 3dfx card in the system but as it is a Quantum3D piece it is nice to have and sees daily use.
---
Quantum3D Introduces Graphite Visual Computing System
San Jose, CA August 30, 1999 Quantum3D announced Graphite, its newest product for the Out-of-Home (OHE) coin-op, gaming, and kiosk markets. Graphite incorporates the compact size and rugged industrial strength necessary in these markets, while delivering scalable graphics performance and special purpose I/O. With its support for PC-based software development and deployment tools, Graphite enables manufacturers to reduce their application development time, as well as manufacturing and inventory costs, while still improving their time-to-market.
Graphite complements the Quicksilver II system, enabling each product to have a tighter focus within the market. Graphite is targeted at entry-level coin-op, gaming, and kiosk system applications, while Quicksilver II addresses the needs of advanced coin-op and location-based entertainment (LBE) applications.
Graphite incorporates advanced PC-component technologies from industry leaders, including 3dfx and Intel, packaged in a custom chassis. Graphite supports three-quarter length PCI and AGP boards, as well as Intel Socket 370 MicroATX form factor motherboards for Intel Celeron PPGA processors. Graphite also supports up to 512MB of SDRAM system memory, floppy and hard disk drive options, Flash ROM, DVD and CD-ROM storage devices, and numerous networking options. To provide OEMs with development and deployment flexibility, Graphite is available with Windows 98, WindowsNT, a variety of embedded operating systems and an ``OS-less'' configuration for OEMs. Linux operating system support is planned for the fourth quarter of 1999. Graphite systems equipped with Windows 98 also include Quantum3D's QDK, which eliminates the need for keyboard and mouse and provides automatic recovery from power failure or system interruption.
Graphite is shipping to customers now. OEM prices range from $500 to $1,500, depending on volume and configurations.
---
Quantum3D Announces Graphite Design Win With Midway Games
Leading Amusement Manufacturer Selects Quantum3D Ruggedized PC for Arctic Thunder
San Jose, CA February 16, 2001 - Quantum3D™ the industry-leader in ruggedized PCs for realtime 3D applications, announced today that leading coin-op amusement game manufacturer Midway Games® Inc. has selected the Quantum3D Graphite™ to power their new Arctic Thunder™ coin-op snowmobile racing game. Arctic Thunder continues Midway's tradition of extreme-style game play and is now shipping to arcades and other amusement venues around the world. Graphite offers Out-of-Home Entertainment (OHE) customers a dependable and ruggedized PC solution designed specifically for advanced coin-op, gaming and location-based applications at an affordable price. Quantum3D pioneered the use of specially designed and ruggedized PC-based systems for the Visual Simulation and Training (VST) and OHE markets with the Quicksilver II and Graphite systems. Both systems provide complete solutions for a variety of OHE and entrylevel VST applications and are widely used by entertainment system integrators including Midway Games. Graphite is Quantum3D's third generation and current entry-level PC-based system and Quicksilver II is the previous, second-generation product. "Midway has once again set the standard for amazing game play and remarkable realism with Arctic Thunder," said Ross Q. Smith, Co-Founder and Vice President of Sales and Marketing at Quantum3D. "Quantum3D is excited to work with Midway again in providing the system for another blockbuster arcade game. Midway's selection of Graphite for Arctic Thunder is the arcade equivalent of the 'Good Housekeeping Seal of Approval.'" "We chose the Quantum3D Graphite system for it's high performance specifications, intended reliability and easy service access design," Kenneth J. Fedesna, Executive Vice President of Product Development at Midway Games Inc. explained. "Rugged design and performance are critical in the coin-op market."
Affordable, Compact Graphite
The Quantum3D Graphite System provides scalable performance and configuration flexibility with support for Intel® Celeron™ or Pentium® III processors and 3dfx, NVIDIA® and other leading graphics accelerator technologies required for the most demanding applications. Graphite runs Microsoft® Windows® 98 or 2000 operating systems and is designed from the ground up for the rigors of the arcade environment. Graphite features a 320W power supply with external access for arcade cabinet peripherals, a steel chassis with mounting provisions for tower or shelf integration and ruggedization features both inside and outside the chassis that enable the system to endure shock and vibration at close to Mil-Spec levels. Graphite also features a unique cooling system that enables operation at ambient temperatures up to 60 degrees Centigrade. Like other Quantum3D systems, Graphite includes Quantum3D's patented 'single-side access' technology that places all the I/O on one side for the industry's best serviceability. Graphite is available with the Quantum3D QDK™ utility for embedded Windows operation—which enables the system to withstand complete power losses and automatically restore the system and re-start the game or application. QDK enables embedded operation in a standard Windows environment, and eliminates the need for keyboard, mouse and other typical PC peripherals, providing automatic application loading from system initialization and automatic restoration from power failure.
Other OHE Customers
Leading VST and OHE manufacturers and systems integrators using Quantum3D entry-level products include the following: Arcade Planet (formerly Lazer-Tron), Attraction Services, Aviation Simulation Trainers, Digital Vehicles, Doron Precision, GlobalVR, Hyperion, Illusion, Inc., Rikei, Sega® Tournament Network (STN™), Smart Industries™, Thomson Entertainment and Tsunami.
About Midway
Midway Games Inc. is a leading interactive entertainment industry developer, publisher and marketer of software for both the coin-operated and home markets. Midway games are available for play on all major dedicated home game platforms, including the PlayStation®2 computer entertainment system and PlayStation® game console, Nintendo® 64 and Game Boy® Color, and Sega Dreamcast™.
About Quantum3D
Quantum3D, headquartered in San Jose, California, brings innovative new concepts and products to the embedded visual computing industry. From state-of-the art image generation systems for visual simulation and training applications to embedded graphics technology used for cockpit displays to purpose-built systems for the leading coin-op games and internet kiosk applications. Quantum3D designs and manufactures ruggedized, powerful PC-based systems that deliver unparalleled realtime graphics performance and image quality to provide the highest quality and value available in visual computing today.
Quantum3D, Graphite, QDK and JAMMAlinx are trademarks of Quantum3D, Inc. All other trademarks are property of their respective owners.
---