Quantum3D Heavy Metal #15 Demo
---

Front shot- Power and HD lamps visible through panel when locked.
NOTE- On first blush I had thought this was a Quicksilver machine but after a through inspection of the hard drive and some research I'm DEAD WRONG.
And rather happy about it too =)
Turns out this unit is/was a Quantum3D demo system sent to Mak Industries in the New England area to drum up some business back in 1998. Mak (Whose business is military simulations) used it for a year or so and then it was collected by a computer tech in 2004, who then contacted me.
Looking over the drive and registry it turns out that this just might be one of Quantum3D's first Heavy Metal PC's. Built some time around December 1997 (according to folder dates) it had a text file in the C:\ indicating it had a prototype dual board Obsidian card and to make sure the cards connectors were not disturbed in shipping... Combined with the registry information and drivers on the hard drive the only card that fits the bill would be a Voodoo II based 200SB.
A functioning Obsidian2 200SB has been since obtained and re-installed.
Further looking in the registry the first primary video card listed is a ATI Rage II/II+ PCI of some sort, which jives with the drivers found on the drive and the information found in the internet browser cache. Yes the browser cache was still intact! It shows that the machine last accessed the internet sometime in late 1998 and download an updated Intel bios, newest ATI drivers and Quantum3D drivers. A tech at Quantum3D indicated they were not too picky in regards to what was used as a 2D adapter in a demo system which may explain what a Rage II/II+ PCI was doing in an AGP system!
Why call it Heavy Metal #15? Because it has #15 on the back of the power supply and in the network settings panel..... yes you guessed it..... Network = Quantum3D, Computer Name = Heavy Metal 15
Check out the press release on the bottom, it fits this machine like a glove.
---
Between files & folders on the hard drive, the event log in NT and some helpful folks here is what I was able to piece together.
10/1997 Western Digital main hard drive date of manufacture.
12/1/1997 Windows 95 loaded (C:\Windows folder date.)
12/2/1997 Direct X installed (DX folder date.)
3/3/1998 F-22 Air Dominance Fighter air combat simulator game installed.
3/12/1998 McAfee Anti-virus installed.
8/26/1998 ATI driver folder date (contained both Win95 and NT4 drivers.)
8/28/1998 Motherboard bios updated (Bios folder date.)
8/28/1998 A few hours later, C:\WINNT folder created.
8/28/1998 First event in NT event log, from there HEAVYMETAL1 shows activity almost every day.
10/27/1998 First break in log file besides weekends.
11/17/1998 Log file resumes after almost 3 week gap.
11/18/1998 Last login of HEAVYMETAL1.
11/18/1998 First log in of MAKDEMO1, machine sees active service every few days till 5/19/1999
11/25/1998 Matrox MGA NT4 driver folder date (I assume Matrox card installed now)
10/25/1999 MAKDEMO1 active again after 5 month gap.
10/26/1999 Last entry in 1999 log file.
4/28/2004 I'm contacted in regards to system by computer tech after web search turns up my 3dfx website.
11/20/2004 Machine obtained from computer tech.
11/20/2004 Machine started again for first time since 10/26/1999
---
Specs- The unit shown below is a rack-mount (duh) PC with a PII 333mhz CPU, Intel LX Seattle 66 mhz bus motherboard with 96 MB of SD-RAM, onboard Yamaha sound, dual 2.1 gig Western Digital hard-drives (one removable) running NT4 workstation and Win95b in a dual boot configuration.
The installed 2D video at time of my purchase was an AGP Matrox, which has been replaced with a Rage II PCI as the Windows registry and drivers on hard drive indicate it was the first installed 2D device. I'll hang on to the Matrox board just in case it was the last board installed by Quantum3D instead of something thrown in by Mak Industries. I'd like to think that Mak would have not installed a Matox board since it was a demo machine but someone did take the Obsidian 2 200SB after it arrived there.
I'll tell you one thing- It is made from steel and thick aluminum and weighs about 40-45 pounds, a rugged beast! Inside it has a a magnum force fan blowing filtered air over the expansion slots.
---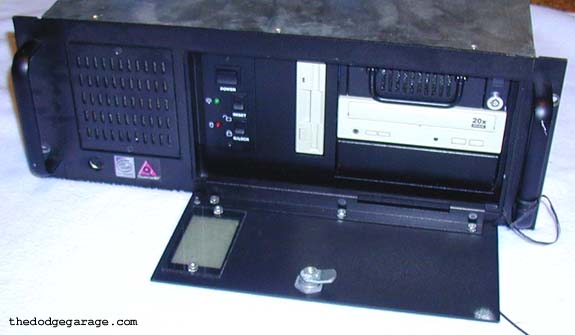 Panel open- access to drives, power and reset switches.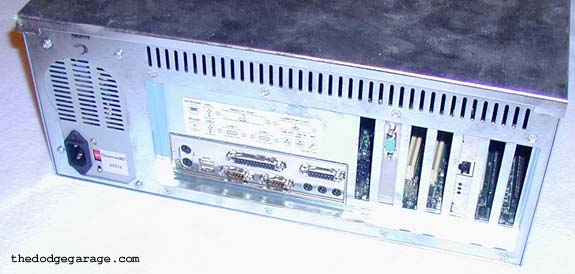 Rear shot- By the looks of things all slots have been used at one time or another, no surpise being a demo unit.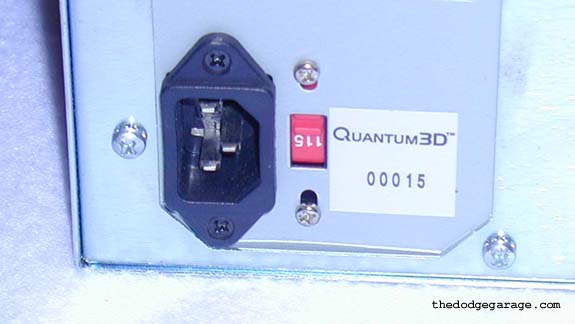 Sweet- #15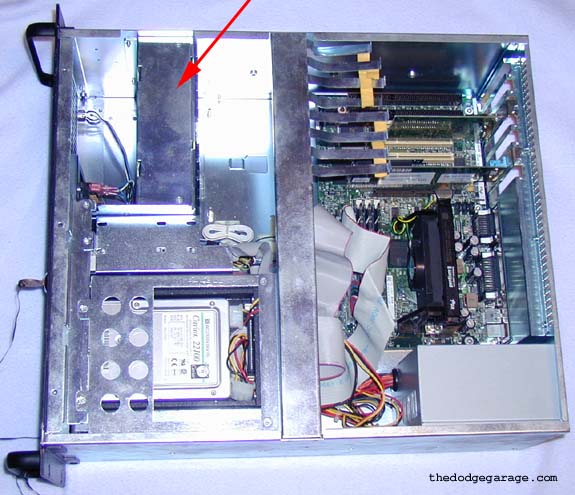 Interior shot- Large arrow points to burly fan location.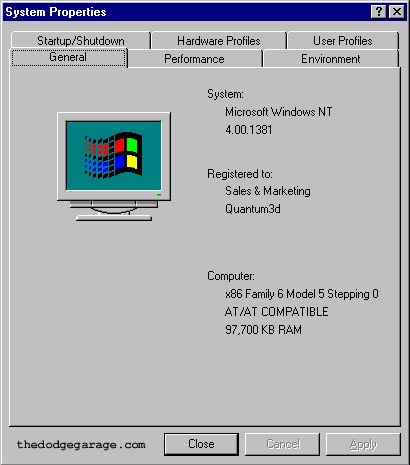 Microsoft serial number removed via Photoshop.
---
QUANTUM3D ANNOUNCES WORLD'S FASTEST REALTIME 3D GRAPHICS ACCELERATOR FOR PROFESSIONAL APPLICATIONS


SANTA CLARA, CA – March 31, 1998 – Building on its success in the professional realtime 3D graphics market, Quantum3D, Inc. today announced the Obsidian2 family of realtime 3D accelerators based on the Voodoo2 chipset from 3Dfx. The first of the professional models of the Obsidian2 family, the 200SB-8440 and 200SB-8440V with on-board 2D/VGA support, each contain 24 MB of on-board memory, are targeted at cost-sensitive, exclusive-mode professional realtime 3D applications including coin-op/arcade, location-based entertainment, visual simulation and training. Separately, Quantum3D also announced the Obsidian2 S/X models—which are specifically designed to provide the ultimate realtime 3D experience for consumer "game extremists".
Designed to deliver industry-leading, full-screen, realtime 3D performance on personal workstations and embedded platforms based on Intel and Digital Alpha AXP processor architectures, the Obsidian2 200SB-8440 supports software applications that employ the Microsoft Direct3D, 3Dfx Interactive Glide and Quantum3D SimGL application programming interfaces (APIs). The Obsidian2 200SB-8440 is powered by a six-chip Voodoo2 chipset using the unique Single Board Scan-Line Interleaved (SBSLI) design Quantum3D pioneered last year with the Obsidian 100SB family of realtime 3D accelerators. The Quantum3D SBSLI approach combines two Voodoo2 graphics subsystems in parallel to provide twice the fill rate—without requiring dual graphics boards which consume two PCI slots and require inter-board SLI interconnection cable assemblies.
With a 384-bit memory architecture and 4.3 Gigabytes-per-second of dedicated graphics memory bandwidth, the 200SB-8440 can sustain 180 Megapixels-per-second of textured fill rate, with perspective-correct trilinear texture filtering with per-pixel level-of-detail mip mapping, z-buffering, alpha-blending, and per pixel fog enabled. In terms of triangle performance, the 200SB Voodoo2 floating point triangle set-up engine features support for triangle mesh, strip, and fan primitives and Pentium II style write combining, which enables the accelerator to process up to 2.5 million textured triangles per second.
"Quantum3D set the standard for PC-based 3D performance last year with the 100SB. This year, they are breaking all the performance records for 3D graphics with the new Obsidian2 200SB line," said Ben Lubetsky, marketing director of M€K Technologies. "We use Quantum3D's products because they provide unmatched image quality and superior realtime 3D performance for our Stealth PC systems."
On Gemini Technology's RealWorld Benchmark Release 2.0, the 200SB-8440, when deployed in an Intel Pentium II 333MHz system, delivered the highest score ever achieved on a PC-based system (see figure, below). With an average score of 161.4 frames per second composite score at 640x480 resolution in single-buffered rendering mode with trilinear filtering enabled, the Obsidian2 200SB-8440 delivers approximately 500% greater performance than the Diamond Multimedia FireGL 4000, which uses the Evans and Sutherland RealImage chipset, when placed in the identical system. On the same tests, an Intergraph TDZ-2000 workstation, equipped with a 300MHz Pentium II processor and Intergraph's own RealiZm-II model VX-113, achieves a score of 40.9—less than 1/4th the performance of the 200SB-8440
"The Obsidian2 200SB-8440 significantly exceeds the performance delivered by all other PC graphics accelerators, and most workstations and image generators by a huge factor—at much lower costs," said Ross Q. Smith, co-founder and executive vice president of sales and marketing at Quantum3D. "With the exception of the SGI Onyx2/Infinite Reality, Pentium II PCs equipped with the 200SB now deliver better realtime performance than any other product in the world—regardless of price. Since the Obsidian2 supports advanced features such as 1024x768 resolution, multi-channel synchronization, authentication, and simultaneous RGB and video out, vis sim and "out-of-home" entertainment companies can now deliver greater realism and higher levels of interactivity at price points that were unimaginable just one year ago."
In addition to its PCI bridge chip, the Obsidian2 200SB-8440 includes two pixelfx2 chips, four texelfx2 chips for 24MB of 3D graphics memory—comprised of 8MB of frame buffer memory and 16MB of texture memory organized in parallel for an effective texture memory compliment of 8MB. The 200SB-8440 is capable of displaying resolutions up to 1024x768 with depth and single, double, or triple-buffered rendering enabled. The Obsidian2 200SB-8440 employs a "VGA pass-through design" that ensures compatibility with popular 2D/3D primary windows accelerators. For applications where PCI slots are at a premium, the Obsidian2 200SB-8440V includes Quantum3D's MGV-2000 2D/VGA daughter card that provides competitive 2D performance without sacrificing a third PCI slot.
Optimized for multi-channel applications, the Obsidian2 200SB-8440 driver software supports up to four boards in a single system. In addition, the 200SB-8440 features Quantum3D's unique SwapLock capability—enabling synchronization of up to 16 graphics channels for wide field of view applications and immersive environments. The Obsidian2 200SB features simultaneous RGB and NTSC/PAL "TV-out" capability with support for both S-Video and composite formats. The board also includes a digital video out "pixel port" that enables simulation, virtual studio, and other advanced integrators to implement advanced post-rendering techniques with custom video hardware. For coin-op and location-based entertainment applications where software piracy is a concern, the 200SB includes a unique, on-board authentication feature designed to "lock" content to a specific authentication key that is unique to each OEM.
Pricing and Availability- Quantum3D's Obsidian2 200SB-8440 and 200SB-8440V work with any Intel architecture PC equipped with a mid-length PCI 2.1 compliant slot running Microsoft DOS, Windows 95 or Windows NT 4.0 (SP3 or later). Support for Digital Alpha AXP processors running Windows NT 4.0 should be available within six weeks from the date of initial customer shipments. The 200SB-8440 has an MSRP of $999 U.S.; the 200SB-8440V, with on-board 2D/VGA has an MSRP of $1,199 U.S. The Obsidian2 200SB-8440 and 200SB-8440V, along with Quantum3D's new "S/X" consumer-level Voodoo2 -based products, also announced today, will be available directly from Quantum3D through their new Web Store and through authorized distributors, VARs and integrators beginning in late April. Obsidian2 products will also be made available in Europe through authorized distributors.
A bundle product including the 200SB-8440 and Datapath's RealiStorm realtime visualization plug-in will also be available in Q298. Priced at $1,199, the new bundle is targeted at animators, architects and other design professionals needing realtime rendering or accelerated "render to disk" capabilities from within Kinetix 3D Studio Max, Max2, and 3D Viz, Autodesk AutoCAD R14 or Bentley Systems' Microstation.
About The Company- Quantum3D, headquartered in Santa Clara, California, develops and markets price/performance-leading solutions for the advanced visual computing marketplace. Quantum3D focuses on delivering "Affordable Reality" solutions, which include the Quicksilver and Heavy Metal line of integrated PC-based visual computing systems and the Obsidian and Obsidian2 family of realtime 3D accelerators for game enthusiasts, PC-based coin-op/LBE, visual simulation and training, and digital content visualization markets. In addition, Quantum3D markets realtime 3D scene management and visualization software including OpenGVS realtime 3D-scene management API from Gemini Technology, Inc. and the RealiStorm realtime visualization plug-in software from RealiMation, Inc. Quantum3D also markets the GCI and Gameframe family of realtime input products, related tools and subsystems that enable its customers to exploit the full capabilities of the company's systems and graphics hardware products.
http://www.quantum3d.com/press/HTMLarchive/3-31-98b.html
---