Quantum3D Quicksilver
---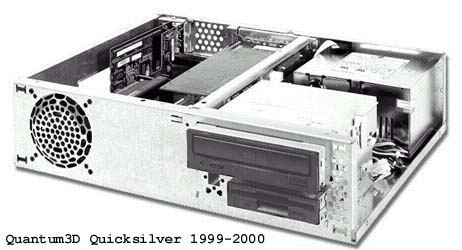 (I don't own this unit, just a picture from Quantum3D's website)
---
Quicksilver was a family of Intel Pentium II-based realtime 3D visual computing systems for the coin-op, visual simulation and location based entertainment markets built in a variety of configurations. I have not been able to pinpoint yet an arcade system that has used Quicksilver but I will continue to look.
See the bottom of the page for Quantum3D's press release dated October 23, 1997
I'm very grateful to the individual who saved this system and provided it for display. Aside from the image above I know of no other pictures of Quicksilver units! I'm assuming the units were available with 2 or 3 different cover configurations with a basic chassis shown above. The unit I have has ears along the sides implying that it was for use in an arcade cabinet but shows no screw markings that it was ever installed. The systems are very short too and use a laptop hard drive to conserve space.
---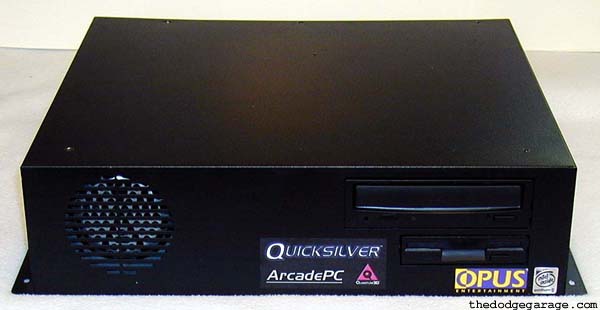 Front of the unit.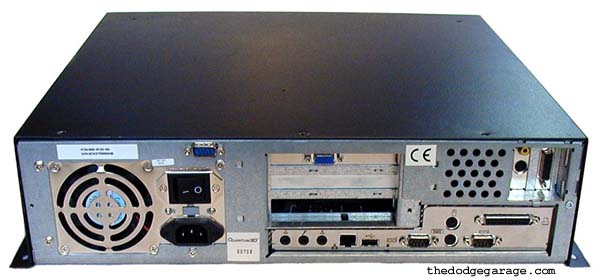 Rear of unit- You can get an idea of the case size by looking at the power supply on the left and the PCI video card mounted in the center on a riser board. The system is only five inches tall.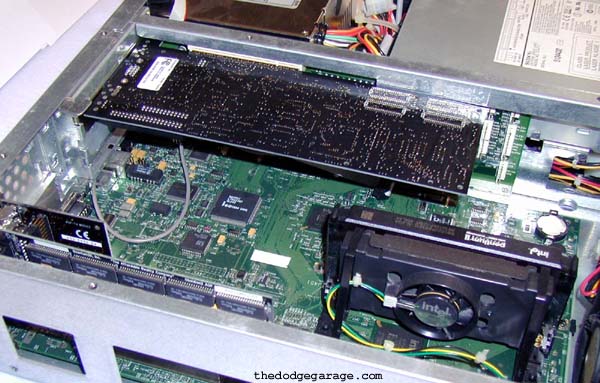 From here you can see the MGV-PCI video board in the center, PII-233 on the right and the 90-4440 just peeking over the edge on the left, lower side. Not shown is the Game Control Interface II but you can see the cabling attachment points on the riser board to the right of the MGV-PCI.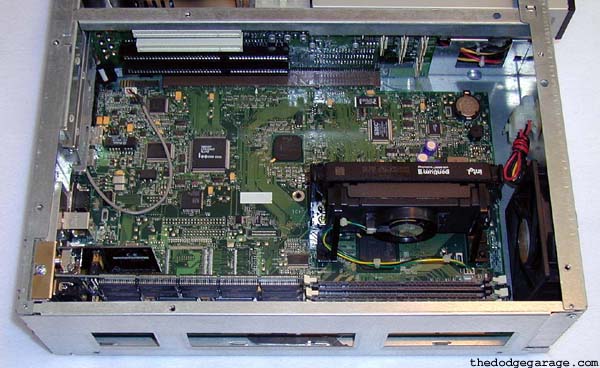 Overhead view of the NX-440-LX motherboard from Intel with on board sound.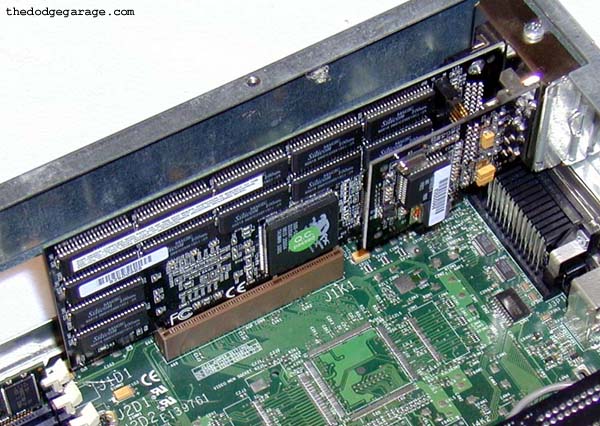 90-4440 Obsidian2 provided the 3D graphics oomph.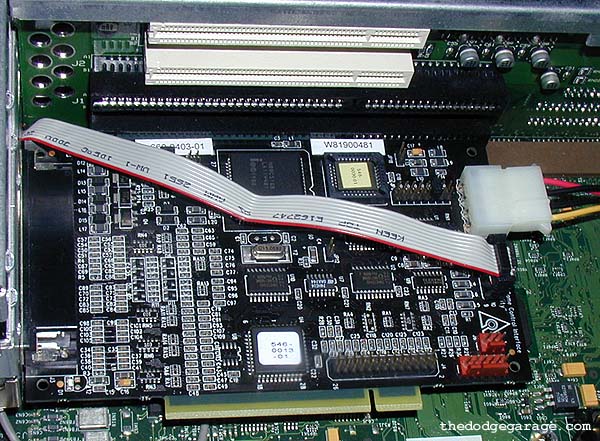 Shown installed is a Game Control Interface II- This was an add on board that interfaced an arcade cabinet control with the Quicksilver system. Joysticks, tilt switch, coin counter, buttons, etc. The Quicksilver unit provided was missing this piece which it clearly had installed at one time and I happened to make a deal with another collector who had one! Now all I have to do now is find the cabling that runs from the GCI II to the the riser board.
---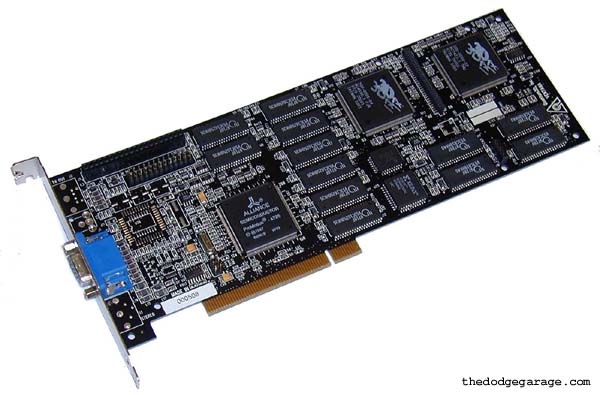 The 2D board- Interesting because it looks like a Quantum3D Ventana 50 Voodoo Rush (limited OpenGVS applications use) but has no TV out and has been re-flashed for 2D only operation!

From Quantum3D's website, 1999.
Release Notes: There is another accelerator which also uses the ProMotion AT25 Alliance Semiconductor chipset. However, it is not a daughter board rather a normal PCI board. The accelerator is called MGV-PCI.
The MGV Rush populated board is similar to the MGV-PCI but has the 3D addition which is not used. It may some times be confused with Ventana board which has TV Out and 3D chips populating the board in a Voodoo Rush configuration. However, the MGV Rush board only uses the Alliance chip for 2D display and the 3D portion will not function.
The Ventana Rush may look similar to the MGV Rush populated board but has the Chrontel chipset used for TV Out. The accelerator has 3D chips populating the board in a Voodoo Rush configuration. In addition, the accelerator may have "Ventana" silk screened onto the board near the Quantum3D logo. This board was never sold for public use nor was it released as a product.
---
QUANTUM3D ENTERS VISUAL COMPUTING SYSTEMS MARKET WITH LOW-COST INTEGRATED SYSTEM FOR REALTIME 3D APPLICATIONS
Quantum3D's Quicksilver Based On Intel Open Arcade Architecture Specification Delivers Highest Performance In Industry Coin-Op, LBE and Visual Simulation Applications
ATLANTA, GA — October 23, 1997 — Quantum3D, Inc. (AMOA - booth #1751) announced at the Amusement and Music Operators Association conference that it has developed a family of Intel Pentium II-based realtime 3D visual computing systems for the coin-op, visual simulation and location based entertainment markets. Named Quicksilver, the systems employ Quantum3D's own high-performance Obsidian 100SB realtime 3D graphics accelerators and Game Control Interface (GCI), a unique, low-cost subsystem designed to interface coin-op I/O control devices to the PC. These low-cost, high-performance platforms are among the first computer systems to be developed based on Intel Corporation's Open Arcade Architecture Forum (OAAF) specifications.
The Quicksilver system, which is now shipping, is targeted for cost-sensitive visual computing applications such as coin-op, location based entertainment, visual simulation and training. Available in either commercial or industrial enclosures, the systems may be packaged for both single channel and multi-channel applications. The entry configuration, for PC-based coin-op applications, packaged in a commercial mid-tower chassis, includes a 266MHz Intel Pentium II processor with 32 Megabytes of EDO RAM, Microsoft Windows 95, a 2.1GB EIDE hard drive, 24x CD-ROM drive, 1.44MB floppy drive, Yamaha 3D audio subsystem, Intel Pro 10/100 PCI Ethernet network interface card (NIC), Quantum3D Obsidian 100SB-4400V realtime 3D graphics accelerator with companion 2D/VGA and a GCI. Other configurations, including 300MHz Pentium II processor, multiprocessor and rack-mount systems are also available.
Quicksilver capitalizes on the Intel OAAF specifications to bring the benefits of PC-based development and deployment to the coin-op and location-based entertainment industry. By allowing game developers to create and deploy their games on a single platform, the PC-based coin-op approach reduces the cost of developing a game by drastically decreasing the development time associated with proprietary platform development. Plus, the approach virtually eliminates the porting time required for ultimate home deployment, and coin-op game developers may create content with the knowledge that similar performance levels will be available in consumer level PCs within 12 to 18 months.
"Intel welcomes the fact that Quantum3D has come to market with one of the first systems based on Open Arcade Architecture," said Albert Teng, director of arcade market development for Intel Corporation.
"We've reached a turning point in the marketplace," said Bob Dekett, director of business development for Quantum3D. "The coin-op industry is rapidly moving toward PC-based systems because of their overall re-usability and cost-effectiveness, and Quantum3D has experience in both PC-based realtime 3D graphics and coin-op platform development. In addition to our complete line of realtime 3D graphics boards and our Game Control Interface technology, we now can offer complete integrated systems. We believe these strengths will enable us to become the largest provider of integrated visual computing systems for the coin-op and LBE industry."
For its PC-based coin-op games, HyperWare and LBE Systems have adopted Quantum3D Quicksilver systems equipped with Obsidian 100SB graphics accelerators, the GCI and 100 Megabit per second Ethernet NICs. These systems will be interconnected via an arcade LAN that will enable multiple players to engage in head-to-head combat with visual realism and responsiveness beyond anything available today. In the future, the HyperWare/LBE Systems arcade systems will also support connectivity between arcades, also part of the OAAF specifications.
"Only Quantum3D's Obsidian 100SB board gave us the performance we needed to make our games run at the speed and frame rates we wanted to achieve. No other board could do that. And their GCI gave us the input flexibility to design a complete coin-op system, said Dave Foley of HyperWare. "By combining them into a turnkey system, Quantum3D has simplified our manufacturing process because the components can be now be sourced from one vendor. We've also been pleased with the responsiveness of Quantum3D's engineers, who have made the whole process faster and easier."
Quantum3D, along with several other AMOA exhibitors, will be displaying the PC-based coin-op systems in their booths at the show. These companies include Intel, Microsoft, HanaHo APC, Happ Controls, Streak Technology, The Other Side, Dynamo, Vivid, Jesler/Mango Grits and others.
About the Obsidian Family
Based on advanced configurations of the 3Dfx Interactive Voodoo Graphics chipset, Quantum3D's Obsidian family of realtime 3D graphics accelerators have been tailored to meet the needs of specific realtime 3D markets. The Obsidian products enable Intel architecture-based PCs to deliver interactive, visually realistic 3D graphics at performance levels equivalent to those of high-end graphics workstations and image generators.
At the heart of Quicksilver is Quantum3D's Obsidian 100SB 3D graphics accelerator. Based on a scan-line-interleaved, 4- or 6-chip implementation of the Voodoo Graphics chipset, the Obsidian 100SB employs the chipset's patent-pending "texture streaming" architecture to produce up to 2.4 Gigabytes per second of dedicated graphics memory bandwidth. This high level of low-latency bandwidth enables the 100SB to deliver filtered texture fill rate performance of 90 Megapixels per second, with trilinear or bilinear texture filtering with per pixel LOD mip mapping, z-buffering, alpha blending, perspective correction and per pixel fog enabled-- which significantly exceeds the performance delivered by all other PC graphics accelerators, as well as most graphics workstations and image generators, irrespective of cost. The 100SB solution also has simultaneous TV-out and a unique on-board authentication feature designed to enhance the protection coin-op games, visualization applications and other proprietary software from software pirates.
Recently, the Obsidian 50-4440 and 100-4440 models have been selected by Intel as the reference graphics subsystems for the Open Arcade Architecture Forum (OAAF) specification for PC-based coin-op systems (http://www.openarcade.com). Obsidian products are currently employed by a number of visual simulation, training, PC-based coin-op/LBE OEMs, and game developers including Advanced Rotorcraft Technology, Argonaut3D, Bentley Systems, Boeing, Criterion Studios, Disney, Datapath/RealiMation, Digital Equipment Corporation, Dreamality, Electronic Arts, ECC, Falcon Northwest, FAROS, FASA Interactive, Gemini Technology, HanaHo ArcadePC, HyperWare, Hybrid, ImmersiveVR, Immersion Australia, Interactive Light, LBE Technologies, MaK Technology, McFadden Entertainment Systems, MetaVR, Inc., QuantumWorks, Reality2, Reality by Design, Ritual, Renault, SAIC, Sense8, Streak Technology, Systems Technology, Inc. (STI), TriMap Systems, TSC, Unreal and others.
Pricing and Availability
Pricing for entry level Quicksilver systems for coin-op applications including a 266MHz Pentium II processor, an Obsidian 100SB-4400V and GCI start at under $3,500. Product is available now in volume quantities from Quantum3D for coin-op, LBE and visual simulation developers, VARs and system integrators.
About Quantum3D
Quantum3D, headquartered in Santa Clara, California, develops and markets price/performance leading solutions for the advanced visual computing marketplace. Quantum3D focuses on delivering "Affordable Reality™" solutions, which include realtime 3D graphics accelerators for PC-based coin-op/LBE, visual simulation and training, and digital content visualization markets and low-cost, high performance, true color graphics accelerators for volume workstation applications. Quantum3D also markets related system software, tools and subsystems that enable its customers to exploit the full capabilities of the Company's hardware products.
http://web.archive.org/web/20030625165850/http://www.quantum3d.com/press/HTMLarchive/10-23-97.html
---