Soft Reality Inc. (1994-2002)
---

Soft Reality Inc. was founded in March 1994 by a team of simulation experts with experience in the latest software and networking technologies used for military simulation. The Engineering staff at Soft Reality is composed of visual simulation engineers who have experience in real-time image generation, distributed interactive simulation and visual database software. Prior to joining Soft Reality, the staff had worked for simulation industry leaders ( such as GE Aerospace, Lockheed Martin and Loral ) and have made key contributions to the simulation industry, including patents on "Continuous Level-of-Detail Terrain" and "Distributed Exercise Management and After-Action Review".

The Early Years...
During the first several years, Soft Reality focused on delivering the highest quality contracting support for real-time and networked simulation and has handled major software contracts with a perfect track record: on-time, on-budget and error free. Soft Reality also developed applications for the Entertainment Industry, providing Time Warner's Full Service Network with "SenTron", an interactive join-in-progress robot battle game. Shortly after it's introduction, SenTron became the number-one game in the FSN's 4,000 home network.

SoftVR™ Hits the Scene!
The beginning of 1997 was a turning point for Soft Reality. The company focus changed from contracting services to product development. The engineers combined their simulation knowledge with the next generation commercially-available hardware to introduce a new level of price-performance to military simulation. The product approach is to package low-cost high-performance hardware with a powerful new software visualization package, SoftVR™, that provides high-end training features such as fixed frame rate and mission functions. SoftVR™ is a "simulation-style" interface that maps closely to functions provided by a traditional image generator, allowing customers to easily port existing host applications to a low-cost low-maintenance platform without losing functionality or fidelity. SoftVR™ is ideal for multi-channel systems and theater-of-war training, due to its ability to distribute processing across multiple processors and multiple platforms. SoftVR™ is also a perfect candidate for embedded trainers due to is potentially small size.

SoftVR™ beta was released to Raydon Inc in Daytona Beach, FL in May, 1997, to be used as the IG component for a large-scale commercial training contract for High School Drivers Education systems.

Soft Reality at I/ITSEC 97
For I/ITSEC 97 (12/97), Soft Reality Inc. showed an impressive multi-channel multi-platform demonstration of SoftVR™. A single host application with a joystick interface was able to control 6 synchronized hardware platforms from 5 different hardware vendors: Intergraph, Quantum 3D, SGI, Real3D and Oak Technologies. Feedback from military and industry by both US and overseas representatives was universally positive.

SoftIG™ Image Generators
The success of the SoftVR™ real-time API led to the next evolutionary step: to develop and market a complete image generation system, SoftIG™. Raydon was very pleased with the performance of SoftVR™ on the previous contract and was the first to apply a SoftIG™ system to a full gunner training system (FIST-B) for the Army National Guard. The SoftIG™ product has met with great success and has expanded into a full visual system product line with database development and visual display systems. For more information on SoftIG™, please contact our sales staff.
Soft Reality Inc was acquired by Quantum3D in September of 2002 after being a business partner for a number of years. SR sold software and systems to both private businesses like the Ford Motor Company and government agencies like NASA and the military.
---
Soft Reality Inc. Mercury-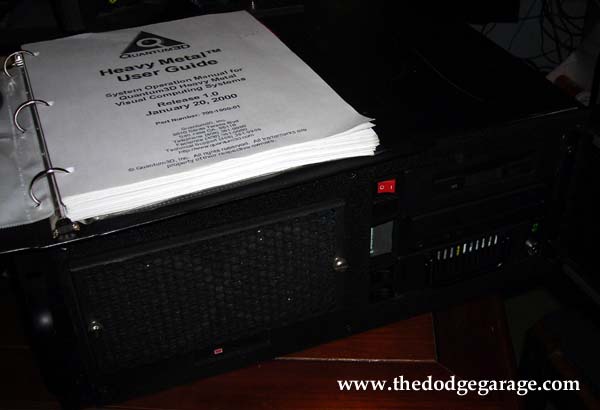 Two Soft Reality Mercury Image generators were obtained in the spring of 2012
Both units are equipped with black Mercury bricks, Supermicro motherboards, dual slot one P2-450's, 512 mb of ram, Diamond V550 primary adapter and 11 gig Maxtor IDE drive.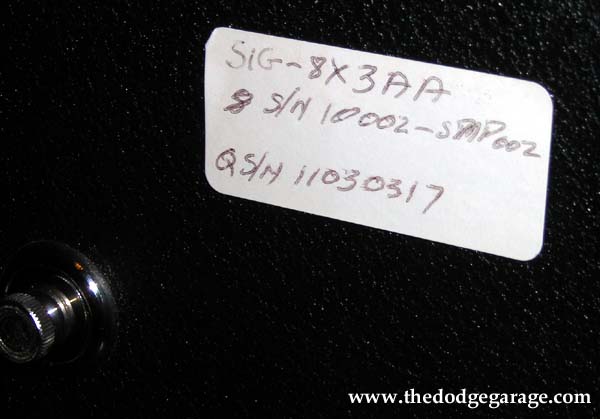 Soft Reality and Quantum3D serial numbers present on the front case.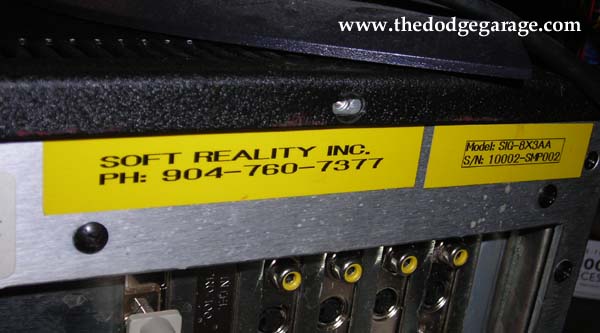 Soft Reality information on the rear.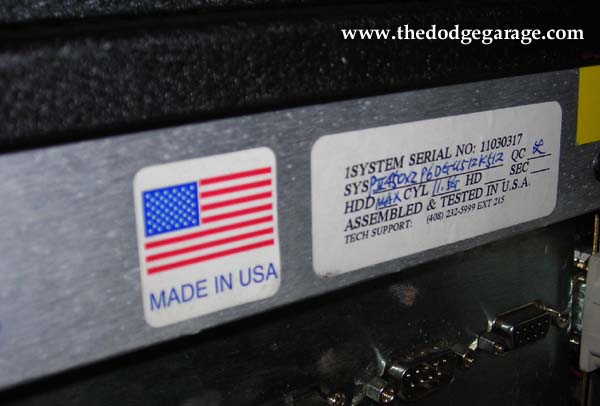 Quantum3D information on the rear.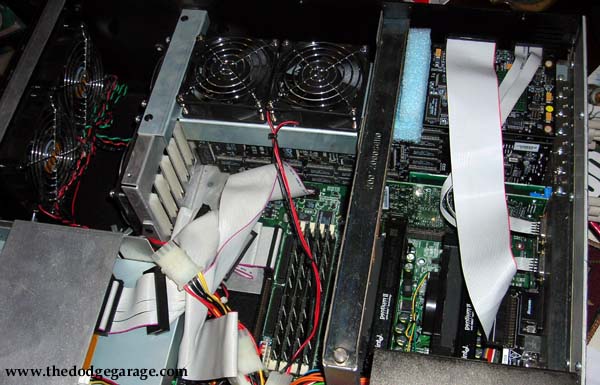 Interior shot showing black Mercury brick and dual slot one cpu's.
---
Soft Reality Inc. AAlchemy 8232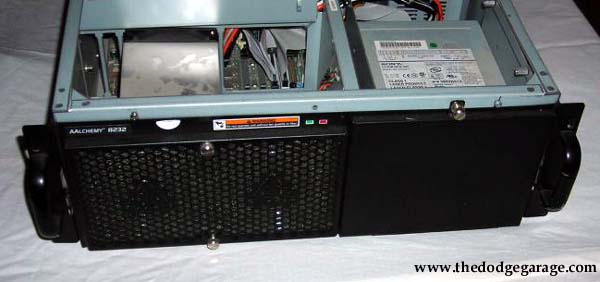 To be honest I can't recall when I obtained these two units, I'll try and research my archives.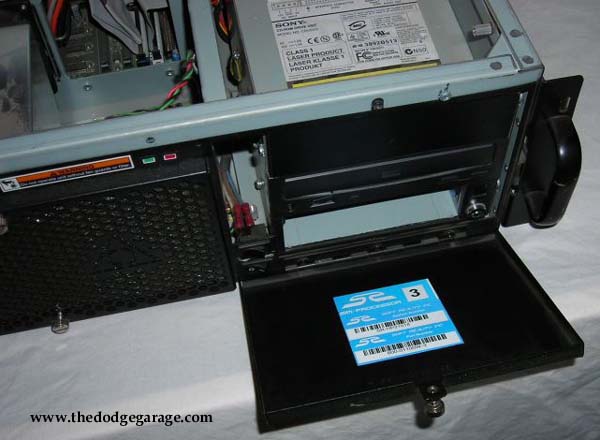 Clearly from SR, note the lack of AAlchemy & Quantum3D badging.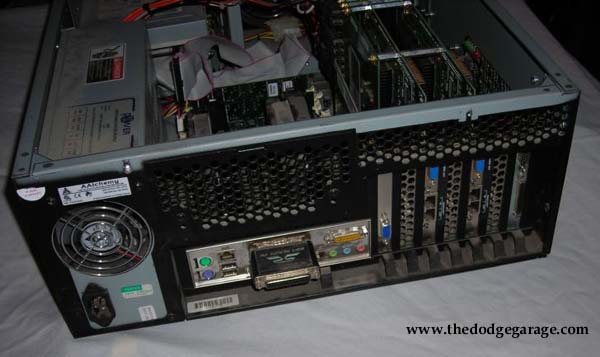 Unit still has the SR software dongle and you can see the dual 8132 AAlchemy boards.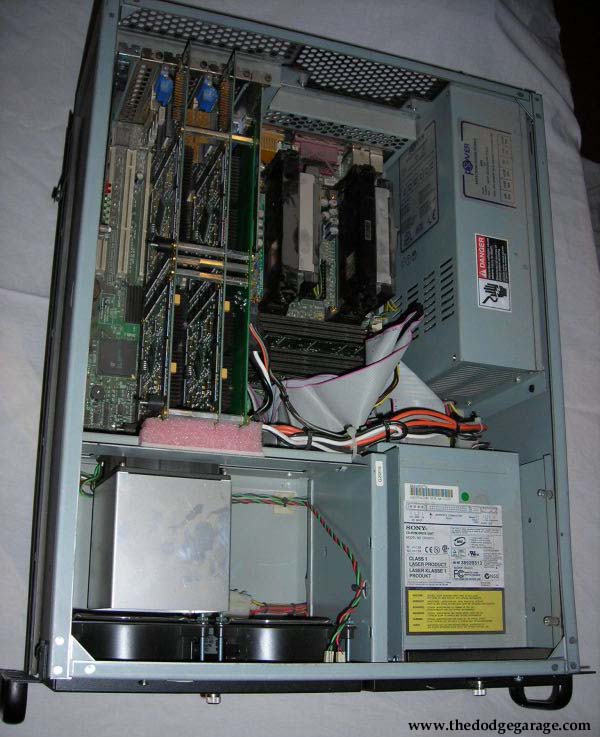 From here you can see the very rare dual 1.0ghz slot one processors.
---