Quantum3D themed Graphite II work PC
---
Take this project for what it is- A Quantum3D themed system done on the cheap for fun.
Outline- As some of you know I have returned to a Dodge automotive dealership repairing cars and one of the most exasperating aspect of the job is lack of extensive documentation for used cars and haphazard function of the shops computer for accessing Chryslers web portal.
Rather then load my extensive collection of repair information on the shops computer (I'm not big on installing my software on someone else's computer) and being at the mercy of a fickle shop computer I decide to bring my own system to work. As the wheels started to turn upstairs I hit upon the idea of a Quantum3D style system- Ruggedized for a work environment, a little paint, some decals (provide for free by a good friend) and I'd be off and running.
Criteria- To be frank it had to fit in the side cabinet I already own and be cheap. Purchases would be kept to a minimum. Since the dealership has a wireless network using the onboard NIC was out so I picked up a Linksys wireless USB adapter. For extra security I went with a wireless keyboard and mouse combo, $19 from Newegg.com. The system would be fired up first thing in the morning and the cabinet could be locked (keeping prying fingers away from system and software) as the wireless keyboard and mouse reside in the top draw of my main toolbox.
Everything else in the system with a few noted exceptions was stuff that was lurking around my office.
It all worked out fairly well as my only other purchases were 2 cans of crinkle black paint, grand total invested in the system was $65
7/9/06 Update: The wireless access was unreliable so I ended up running a cable (onboard NIC) and directly hooking into the dealerships network. Since this article was written, the computer has been upgraded with a NEC DVD/RW burner, 256 MB of free ram and a free 600 mhz Celeron Coppermine CPU found in a computer scrap-heap.
12/19/06 Update: System updated again! This time with 300 watt PC Power and Cooling power supply, P3-700 CPU, ATA-100 Drive cables and a 38 gig Western Digital hard drive for more storage.
3/10/08 Update: Swapped out the P3-700 for a Celeron 1.0 ghz, swapped out the ram for 512 mb (hard to find as the motherboard is very picky) and an extra fan in the rear with blue LED's. One upgrade I failed to note before is an USB bay in the front under the DVD drive with a USB 2.0 card from VIA. Total price on that was $10 shipped, hard to pass up and USB 2.0 beats 1.1 any day of the week. This will pretty much be the end of the road for the old workhorse as it's far as the platform allows. Since I retired from the auto trade it's doesn't see much use but will again if the garage I'd like to build gets completed.
---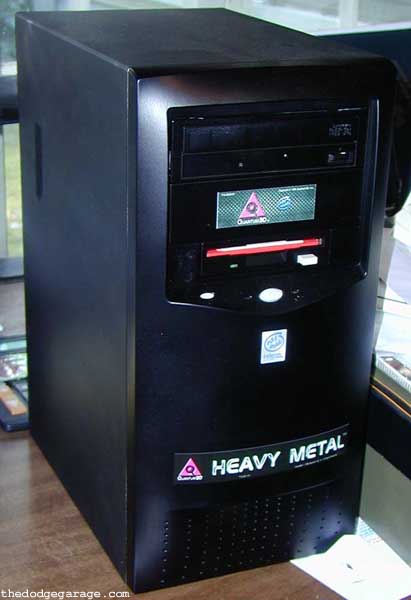 The finished product.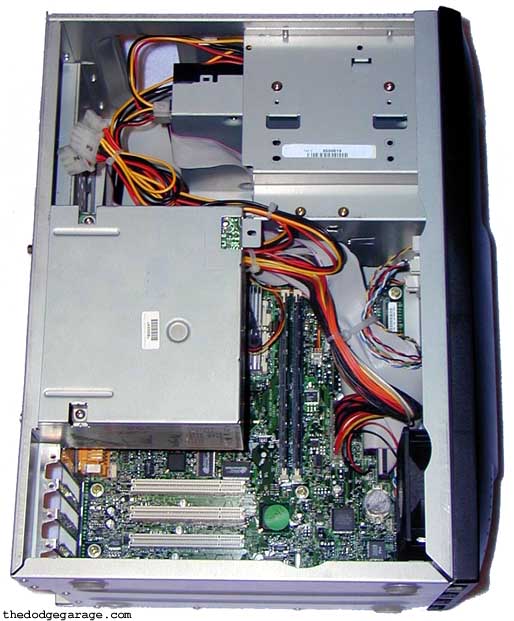 System specs- A Quantum3D Graphite Mirco-ATX 810 motherboard with a Celeron 433 mhz CPU from an Quantum3D Ultracade Arcade console is the foundation for the system. An old Gateway Micro-ATX case stored up in the attic fit the budget and the toolbox side cabinet. All the external pieces were trotted out to the garage for a down and dirty semi-flat black rattle-can paint job. Also taken apart and painted were the CD-ROM and Floppy drives (were on a budget remember?)
The rest of the system: 128MB of PC-100 ram, $4 10 gig Western Digital hard drive from Ebay and the aforementioned original CD-ROM and floppy. Operating system is dual boot Windows 95 and Windows 2000 Pro. For the wireless adapter I used a Linksys 2.4 ghz USB adapter that worked like a charm purchased from Newegg.com for $24.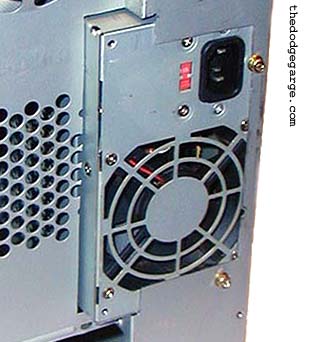 One thing that utterly had to get tossed in the can was the original 80 watt power supply. Since a new Micro-ATX power supply wasn't in the budget combined with the fact most cheap Micro-ATX power supplies suck anyway I went about the problem in my usual unique style.
I busted out a saw and modified the case to use a full size ATX power supply I had lying about.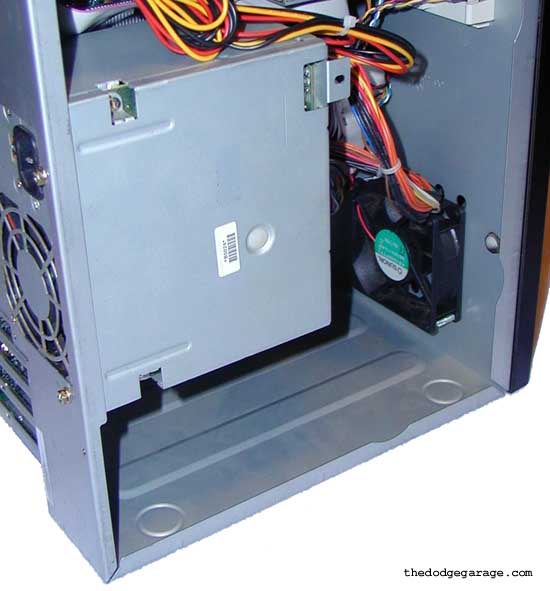 Can't have a Quantum3D system without an intake fan.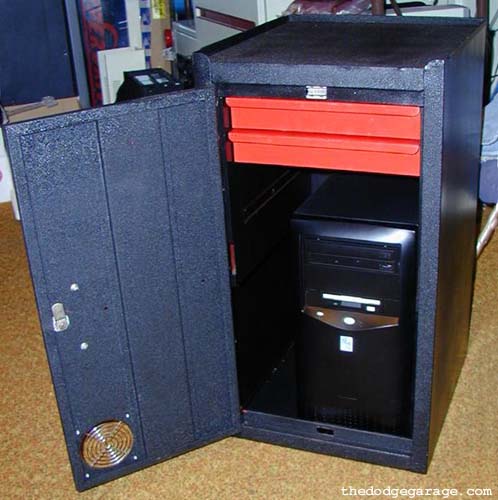 The side cabinet was sanded down and painted with a nice crinkle black finish. Once hanging from the toolbox the system wiring exits out the bottom with a vintage Digital 15" monitor resides on top. Front and rear cabinet fan grills are from a Mercury case kicking around for spare parts. The grills are lined up with the cases intake fan and the exhaust fan from the power supply. The system case inside the cabinet rests on a 1" thick layer of dense black foam for addition protection against vibration and jarring.
For what I'm doing at work the system operates flawless and with a lean Win2k install with good speed.
---