N/A EFI Exhaust related
---
Manifolds & Headers-
Two ways to go here, factory exhaust manifold or a header. The factory unit is adequate but no big shakes, I'd clean it up a bit with a Dremel grinder and run with it. If going all out the header is the way to go but you will have to weld in a fitting to screw in a heated O2 sensor. Hooker makes headers for our application and there still is a listing in the Mopar Performance catalog.
Some notes on headers from people who have run them-
Angelo Taylor:
..these headers are so long on the four door that sometimes they actually hit the track from rocking of the motor on launch, almost always they hit the cross member.. ..in under 1 year of street action they tend to break at the point where they are welded at the flange..
..The hot ticket is to get the Mexican stock exhaust header.....it is a tubular one that uses the stock donut and attaching as do ours.. ..Another thing on exhaust, my car always ran a bit quicker with some type of exhaust on it compared to open header..
I was never able to get my hands on one of the Mexican factory headers, very hard to get overseas parts from Chrysler!
Bradley Miller:
...I went with 2 1/2 on the Shelby and it picked it up enough that my screwed up feedback carb caused a lean/bucking condition...
If your thinking of wrapping the exhaust manifold or system with thermal wrap to try and keep things cool I only recommend this as a race only step. Long term the system will rot out from trapped moisture an headers & manifolds tend to crack from all the heat and thermal expansion.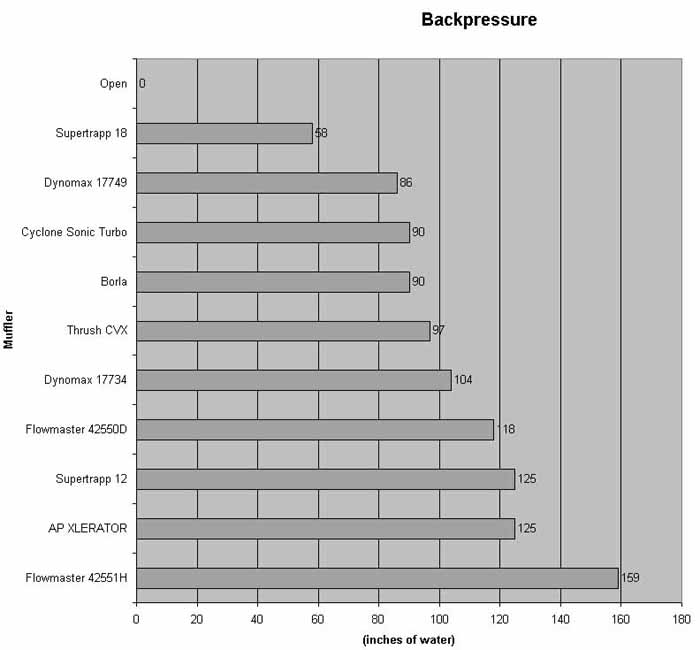 (click for larger image)
Exhaust system- I recommend a minimum of a 2 inch mandrel bent system with a high flow cat and a non-restrictive muffler. An ideal system would be mandrel bent 2.25-2.5 inch with no catalytic converter at all for off road use.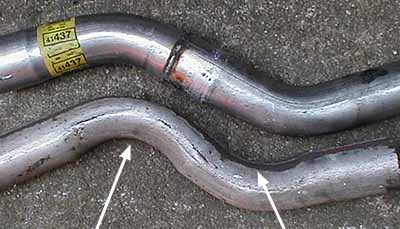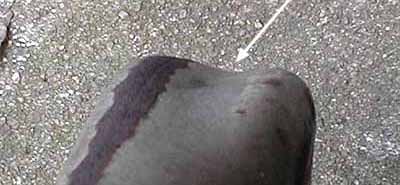 People wonder what the big deal is about getting a mandrel bent system. As you can see in these pictures, a regular system bent up by a run of the mill exhaust shop can have some serous flow issues! The pipe was practically flattened in places!
From Chuck Jones:
On exhaust systems with n/a cars.....

I ran a full 2.25'' crimp-bent exhaust system on my L-body, with an untouched manifold. A cheap glasspack muffler was installed behind the shifter and a Dynomax Super Turbo was placed out back. The car was quiet and had a healthy sound as the tach wound up. I was rear-ended last summer at a stop light and the exhaust system was sheared off at the K-member. I drove it one last time before parking it, and it picked up a noticeable amount power with lack of an exhaust system. Powershifting into second netted heavy tire spin, whereas before I only got a moderate chirp....

I'd recommend the following.....

MP header with reinforced flange, ceramic coating, and a 2.5'' collector. 2.5'' stainless steel flex coupler, 2.5'' mandrel bends, and 2 Ultraflow mufflers. Firm motor mounts are a must to keep the header from breaking.
---