The Intercooler Identification Page
---
Pictures are not to scale of course, I have included measurements when they were made available to me. If you have any of the measurements for the coolers listed or have pictures of a cooler you would like listed please email me.
---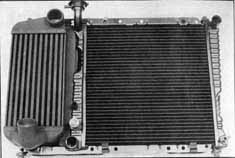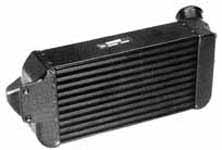 Left: Stock Factory intercooler/radiator 87-89 Daytona, Lancer, Lebaron GTC.
Note: Straight upper outlet neck.
Right: GLHS/Super 60/Shadow- Angled upper outlet neck.
VNT and R/T intercoolers have less fins the 87-89 G-body coolers, S-60 has fewer fins then VNT. More flow/less cooling.


---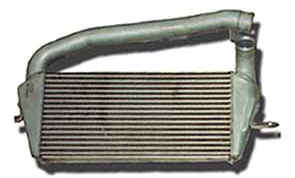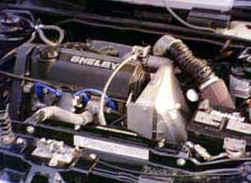 Left: 85-87 Conquest TSI, 16 tubes.
Right: Shelby Charger with discontinued 84-87 Turbo I Spearco kit.


---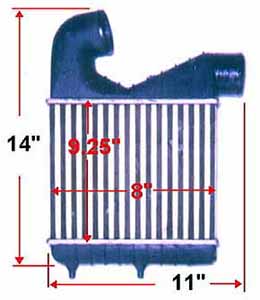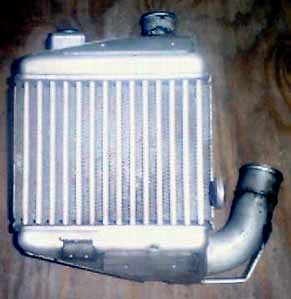 Left: 1986-1993 SAAB 900, 84-85 had aluminum end tanks.
Right: Typical Talon unit, very thick core, does not look very efficient.


---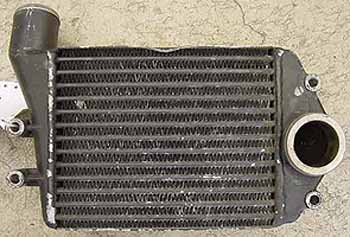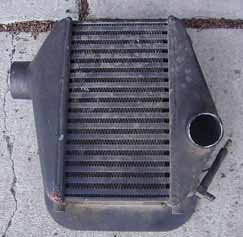 Left: 1986 Peugeot 505, 13 1/2" x 9 1/4" x 4 5/8", the inlet/outlet holes: 1 15/16"
Right: PN: E7SE-6K775-AD, 1987 2.3L Ford Thunderbird/Mustang.
---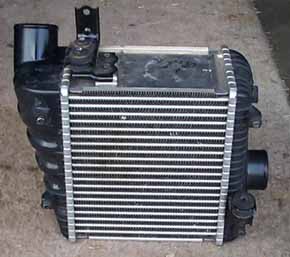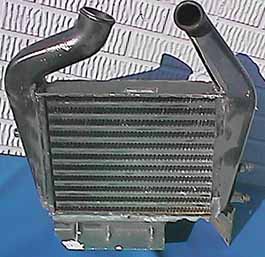 Left: From twin turbo Toyota Supra, unknown year.
Right: Buick Grand National P.N. #25527862
---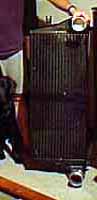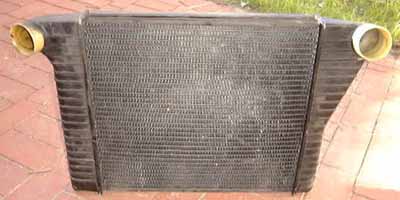 That's Stu on the left hanging onto a early Dodge Cummins diesel pickup intercooler.
On the right the infamous Volvo intercooler! (1988 Volvo 740T, 28.75" x 17")


---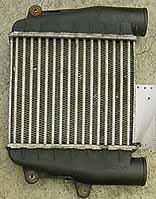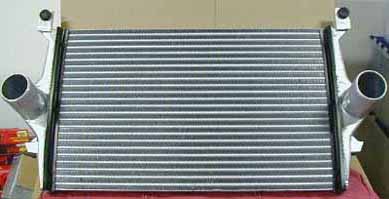 Left: 1 of a pair off '87 Maserati Bi-turbo, 13 3/4" x 9 3/4" x 2 1/2", 1 15/16" I/O
Right: 1999 Ford Powerstroke diesel, 39" x 18" x 2.5", 3" I/O
---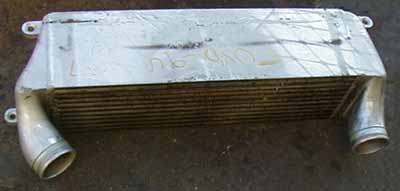 Intercooler from 944 Porsche, 24" x 5.5" x 5.5" 2 3/8" I/O

Intercooler from Isuzu NPR diesel, 24" x 8.5" x 2.25" 2.5" I/O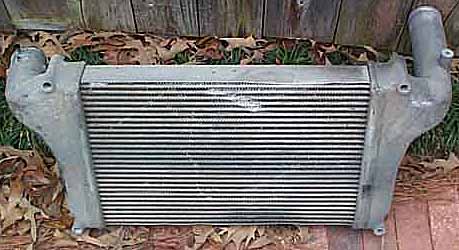 From UD Diesel truck, 19.25" x 13.5" x 2"
---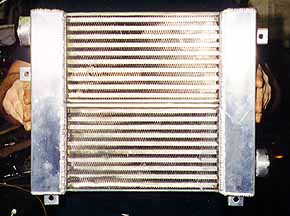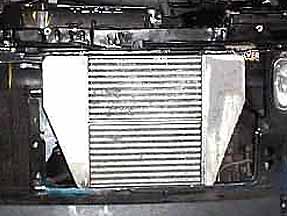 When in doubt start welding stock cores together! The k-car's is on the left, Mike Marra's on the right.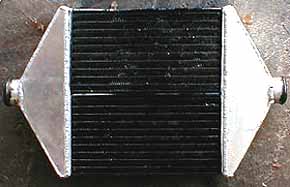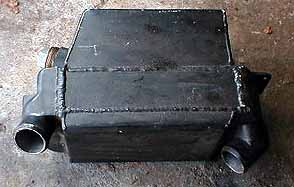 More stock core fun, a nice dual core on the left & a GLHS unit that somebody welded ice tanks to on the right.


---

Mopar Performance used to make a "over the top intercooler" for the 84-87 2.2 Turbo I engines.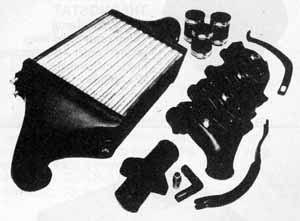 It wasn't a bad little kit except for it placed the intercooler directly over the engine which meant you had to cut a hole in your hood. Another issue was the fact that with the stock intake manifold cylinders 3 & 4 ran 10% richer because they received more air due to the manifolds design (or lack of) With MP intercooler kit now 1 & 2 ran lean because now air entered the motor on the passenger side of the engine! The quick and easy fix was to swap the injector pins at the injector harness plug and everything was golden. (early 2.2 engines fire injectors in pairs, 1 & 2 and 3 & 4, so all you had to do was swap 2 wires)
---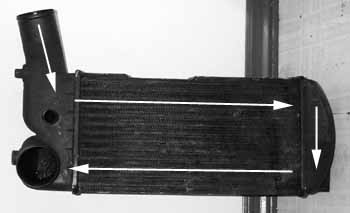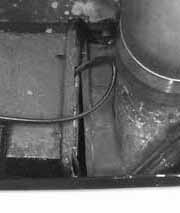 An Audi 10V intercooler- which has a very poor flowpath as indicated by the arrows.
(again in some cases any intercooler is better then none) Chris Pace from Canada had one come apart at 15 psi of boost! The end tanks are crimped plastic and don't take to high boost very well- unless you run a big strap around the cooler to hold the tanks on!
Jeff Goggin passes the strap tip along with a few other tips as well: The '91 200 Quattro had a 20v turbo engine and a single-pass IC that works much, much better than the dual-pass IC (pictured above) does. The later 20v turbo cars -- '92-'94 S4 and '95-'96 S6 -- also have better ICs than those used on the earlier 10v turbo cars but they didn't sell in large numbers and are harder to find in salvage yards.


---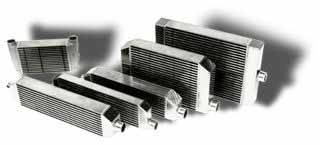 Spearco can make an intercooler to fit any need.
www.spearcointercoolers.com
---