The Quantum3D Heavy Metal GX+ Mercury System
---
Yes I own a fully functional Mercury GX+ system!
Initially I had just purchased a green brick and had nothing else, then a case popped up on Ebay... after that I purchased a Linux server to rob the correct part number and revision GX+ motherboard... and after that it was a matter of finding a replacement SCSI drive cradle... and here it is.
System specs- Intel GX+ server board (AA 721242-007) dual 550 mhz P3's with 512 MB of ram, Aureal PCI sound card, 8 gig Quantum SCSI hard drive.
---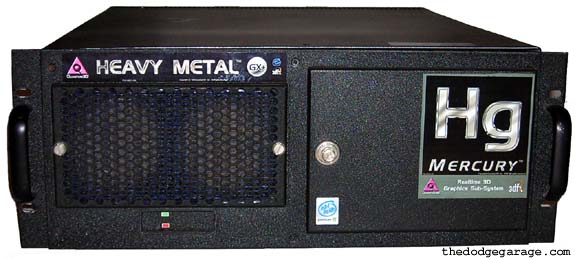 Front of case- On the left behind the grill (with dust filter) is a pair of 92 mm fans pulling in cold air. Drive and power lights are just below the grill opening.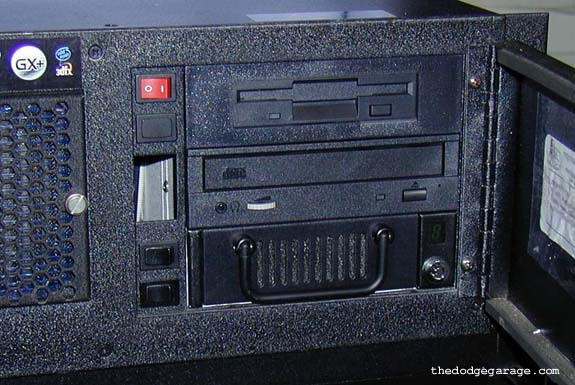 Opening the door on the right you see the floppy, CD-Rom drives and a DE100i-RSW/B SCSI drive dock containing an 8 gig Quantum SCSI hard drive. Switch on the bottom is power, next up is motherboard reset, next up is the hole for the door latch, over that is a blank plug and the red switch is unused (see FAQ page)

Backplate showing ATX header panel and connectors for Swaplock & Medusa cable with TV out.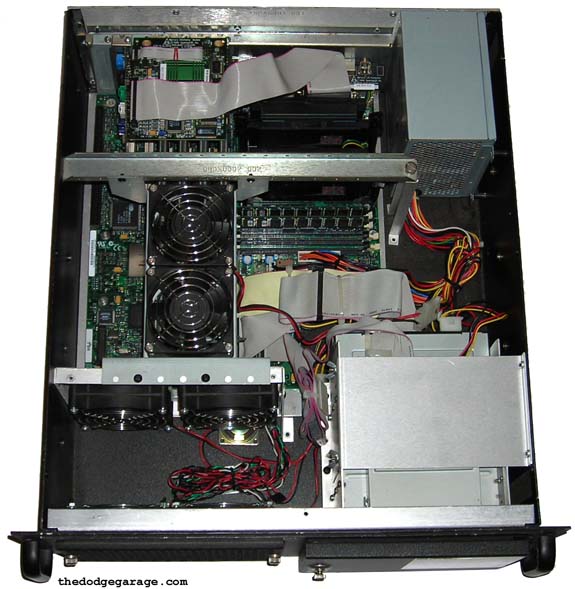 With the lid off the system you can see the massive Intel L440GX+ motherboard with onboard SCSI. In the front of the case are two fans which feed air to the two inner fans (located in card support) and then there are two more fans blowing air directly on top of the cards. A PC Power and Cooling 425 watt power supply sits at the upper right.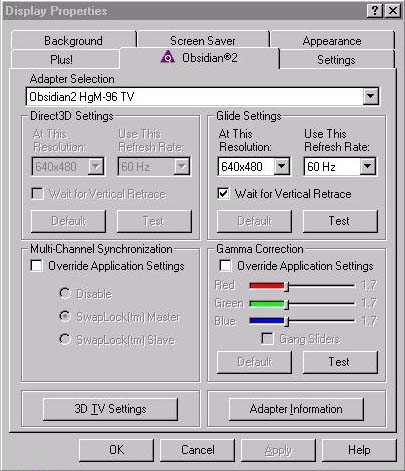 Primary property sheet under Windows NT4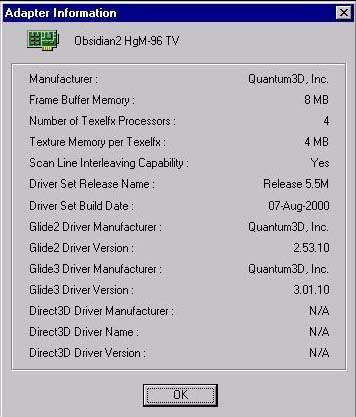 Secondary property sheet under Windows NT4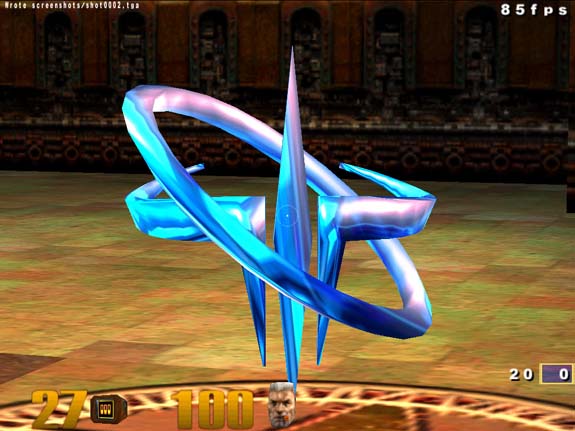 Screenshot of Quad from Quake 3 (no AA present)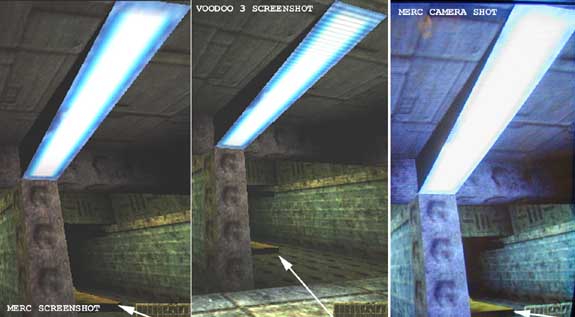 Comparison shot of same scene from Unreal opening level- Normal screenshot function and programs like hypersnap don't seem to be able to catch Mercuy's Rotated Grid Anti-Aliasing in action. I suspect the programs are taking the images from only one the cards frame buffers! What the above picture shows is two screenshots taken via normal means (screenshot key in the game Unreal at 640 x 480 resolution), and the last shot being taken with a digital camera of the actual monitor! Looking at the edge of the bed and other areas you can clearly see the anti-aliasing effect in action.
---